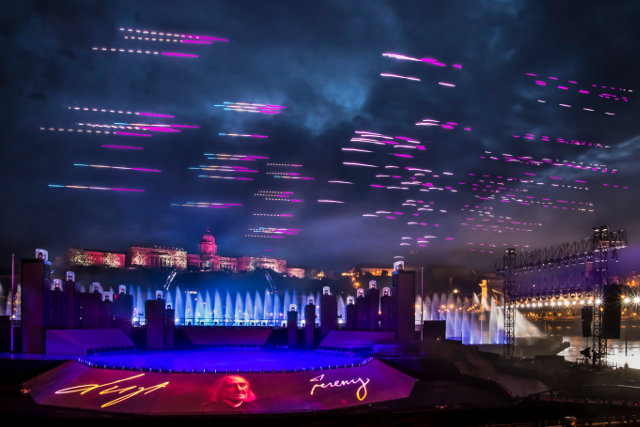 Ready for the stage
Our drone fleet is flexible, reliable, built with the requirements of demanding live events in mind. Mounting points for RGBW lights, fireworks, lasers, mirrors, fog generators or other stage equipment are provided on every drone in the fleet. Motion, lights and fireworks can be synchronized to other stage events using MIDI timecode. Show programming is done with a dedicated software framework, while compatibility with most animation and light programming softwares is supported to work with clients smoothly. Our fleet has already been used in several projects worldwide.
---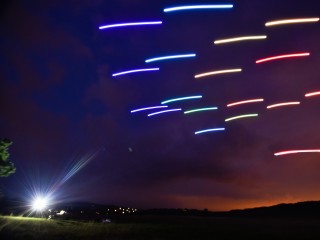 Safety features
Safety is our priority. Our drones communicate in the air to avoid collisions and to handle failsafe situations autonomously. Drones are equipped with redundant flight instruments and a complex decision making framework for handling all possible failures securely. Within this context, flight areas, safety zones and desired flight characteristics are defined on an event basis to maximize safety. Leaving the safety zone, exceeding speed limits, low battery conditions, magnetic disturbances, loss of GPS signal and many other error sources are handled autonomously, while single drones or the swarm as a whole can also be controlled manually should it become necessary.
---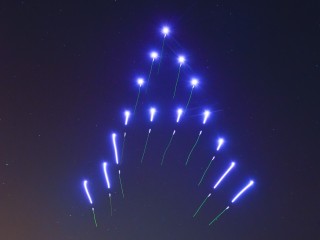 Key Facts
Organising and implementing a drone show is a complex task, requiring thorough preparation on the part of both the organiser and CollMot.
Location: the required take-off and flight zone together require a quite large area (several thousand m2), which must be completely closed off, so the ideal location is near a water surface, a forest or a field, preferably outside of the city centre and far from airports and TV towers.
Take-off area: flat, hard or grass surface, close to the flight zone, min 8 m away from buildings, walls or trees, not close to large metal structures. 10 m safety zone in all directions. Empty corridor between audience and flight area, width depending on local aviation rules and height of flights.
Flight zone: completely closed off, no trespassing or traffic, no power lines within 30 meters, free airspace.
Duration of the show: 5-8 minutes, depending on conditions.
Show content: a thematic show concept including custom-tailored formations, messages and a logo display based on the client's brief. An online previsualisation of the show is presented prior the first test flight.
Project lead time: 2-3 months from the signing of the contract.
Weather conditions: the ideal temperature range is between 5 and 35 degrees Celsius. Moderate rain and average wind speed below 8 m/s is tolerable. In case of heavy rain, strong wind or intense solar flares, the show will be presented at another time agreed in advance.
Flight permissions: to be arranged by the event organizer, with our intensive assistance. Please note that acquiring flight permissions can be a long procedure. Typical lead time is 1-2 months.
Prices include the creation of the show content, presentation of the show and organising test flights both at an airport and on site.